1.5 kg filling of silk quilt
| | |
| --- | --- |
| Place of Origin: | Zhejiang, China (Mainland) |
Product Detail

silk quilts with best level of mulberry silk,and with differnent sizes and different weights.Due to the 100% top mulberry silk, Mengjiangnan mulberry


silk quilts with best level of mulberry silk,and with differnent sizes and different weights.Due to the 100% top mulberry silk, Mengjiangnan mulberry silk quilts, made accodrding to the traditional arts,have outstanding soft and durable features.
1.with of 100% best level of mulberry silk of different weights
2.With the different kinds of cotton and silk cover
In nature fibers, Mulberry silk used in quilts is considered to be of high fill power, the quilts are so light that you might feel the liveliness when you knead the quilt slightly. By Using the high quality of tie-dyed fabric, the mulberry silk quilts can be more comfortable and you will know the real feeling of spring and autumn.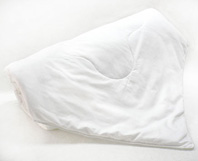 Related Search
Find more related products in following catalogs on Hisupplier.com